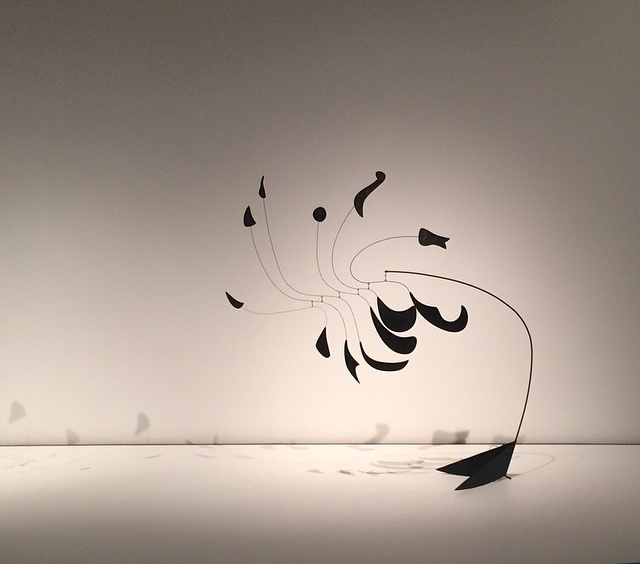 K I N E S I S
Autumn Winter 2015
Inspired by Alexander Calder's mobiles, Catherine Quin became intrigued by the concept of kinetic sculpture, imbuing her clean, geometric silhouettes with a sense of lightness and fluidity.

Designed to adapt to and interact with their environments, Calder's mobiles come to life in their surroundings. Inspired by the idea that clothing could be seen as kinetic sculpture, and with the knowledge that women lead active lives that are rarely static, Quin created pieces that drape and flow in accordance with the body and movement of the wearer, adapting to the environment and needs of the modern woman.
The lightness of a billowing silk dress with hidden pleats, and the suspended overlay panels of a jumpsuit add dimension, creating elegantly fluid silhouettes that complement the wearer. As with Calder's mobiles, the monochrome nature of the collection focuses attention on the movement and shape of each piece without distraction.

Calder was fascinated with the properties of his materials and how their relationship affected the equilibrium and movement of his mobiles. Quin addresses the concept of balance, in both kinetic movement and in daily life, with her understanding of proportion and fabric. Using only luxury, natural fabrics, Quin focuses on how the properties of the materials counter-balance each other and interact with the wearer. Four-ply silk georgette is used for its sumptuous body and drape, how it moves with the body and feels against the skin. The varying textures and weights of the silks at the core of the collection are complemented by heavier cashmere, wool and suede to create a harmoniously balanced and interchangeable wardrobe.